Arbee Associates along with our partner, AMQ solutions are proud to present AMQ height adjustable tables. These tables provide ergonomic and comfortable benching solutions for your office environment. When you use a height adjustable table, you can put your employees' well-being first ensuring a happy and productive office space.
Read more below to learn about the different AMQ height adjustable table options and how including a height adjustable table in your office design can create a more productive workspace.
Benefits of a Height Adjustable Table
Did you know that sitting for eight hours a day can have major health effects on employees across the world? In fact, sitting for forty hours a week can increase the likeliness of death by heart attack by 54 percent. With a height adjustable table, employees have the option to stand while working instead of increasing their risks of office related injuries and illnesses.
Offices with height adjustable tables integrated into their workspaces are more productive and suffer from less lost days of work due to a decrease in injuries and illnesses stemming from the health effects of sitting all day long.
AMQ Solutions is dedicated to creating workspaces across the nation that focus on employee well-being and productivity. With AMQ Height Adjustable Tables, it's easy for employees to work in a comfortable and personalized position of their choosing, allowing them to get more done.
ACTIV-1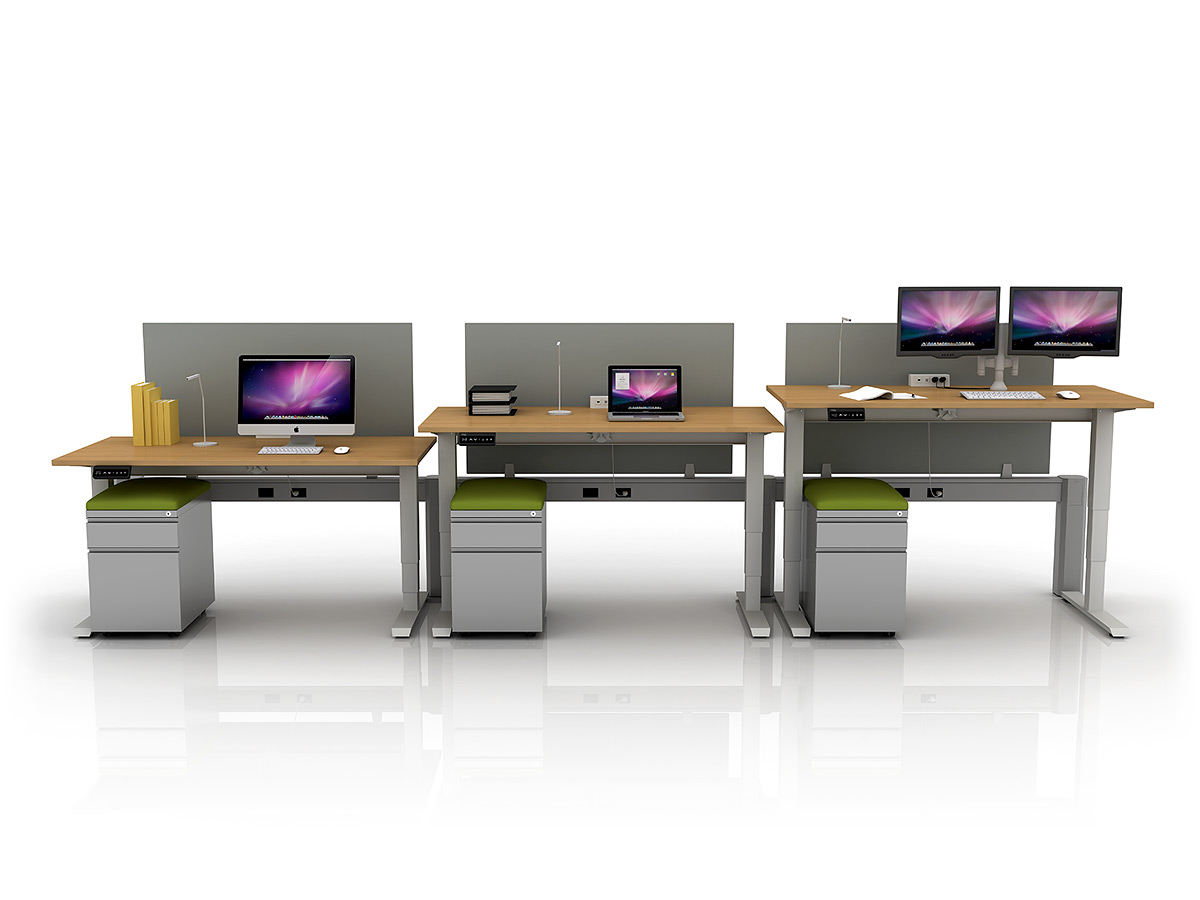 The most lightweight and budget friendly AMQ adjustable height table option.

Equipped with one-touch mobility digital handsets to control leg height quietly and with ease.

Touch screen control panel allows for 3 memory preset to increase productivity.
ACTIV-Pro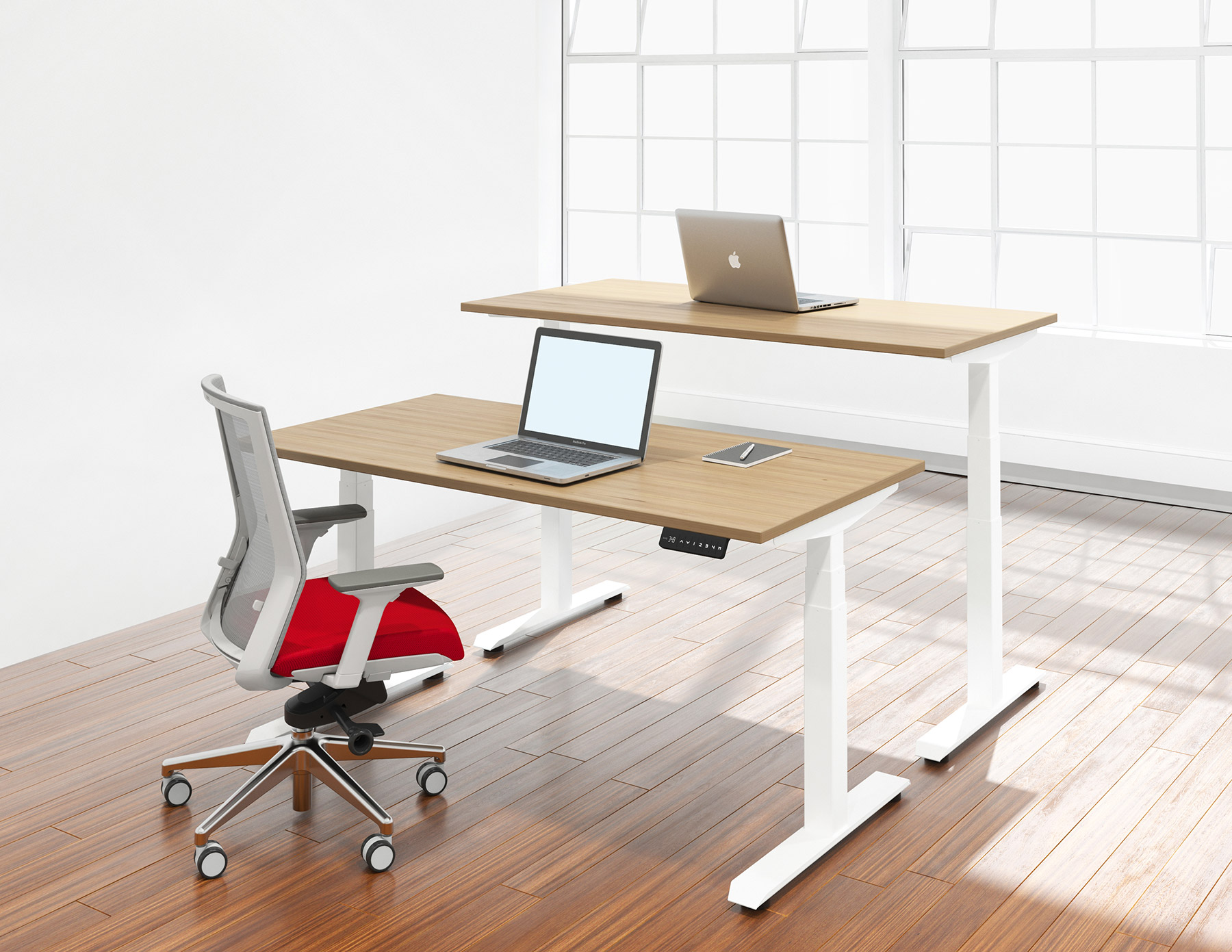 Equipped with a dual motor and 30mm/s adjusting speed.

This height adjustable table has a height range up to 49 inches.

Includes 4 available memory preset height adjustments.
ACTIV-Pro 3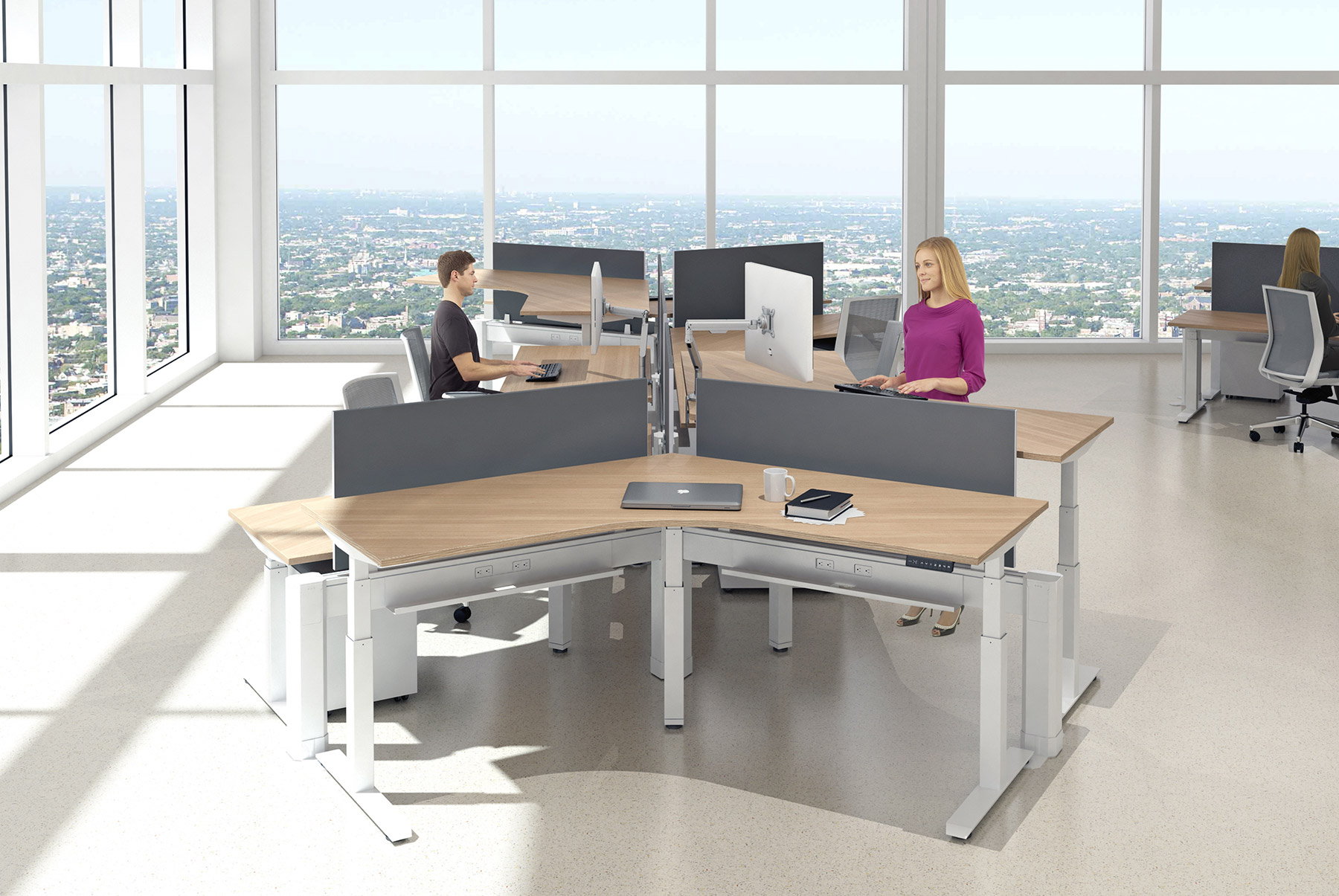 Equipped with a triple motor system and an adjusting speed of 33mm/s.

Includes a work surface that ranges from 48 to 84 inches wide.

Includes a push button with 4 preset memory heights.
Features
All three of the AMQ Height Adjustable Tables comes equipped with state of the art features that allow it to seamlessly integrate into your work environment.
LED Displays with memory presets

Multiple widths available

Adjustable height privacy screens

Quiet Motors

Ships in 5 days
In addition, the AMQ Height Adjustable Tables are available in three different finishes, platinum, white and black to fit the needs of your office design. With the option to choose between a three different screen colors and a variety of white and wood finishes, the AMQ Height Adjustable Tables will look great in any work environment.
Whether you're looking for a way to improve your employees' well-being, increase office productivity, or just redesign your workplace, AMQ Height Adjustable Tables are a great option for creating a comfortable and practical place to work.
For more ways you can increase productivity in your office, check out our blog post "8 Tips for Boosting Productivity in the Workplace."